The Church Is Christ Present: Luther's Theological Realism and Dietrich Bonhoeffer's Understanding of the Church as Unity of Act and Being
Słowa kluczowe:
philosophical theology, theological ontology, theological epistemology, Martin Luther's theology, Dietrich Bonhoeffer's theology, communion ecclesiology, individualism, Protestant theology
Abstrakt
Facing the challenge of modern individualism Dietrich Bonhoeffer (1906–45) corrected the contemporary interpretation of Martin Luther's theology regarding the sacramentality and communal understanding of the Church. From the perspective of philosophical theology he discussed the "transcendental" and "ontological" approaches to explicate the presence of God's revelation in the Church through word and sacraments. Ecclesially and pastorally based theology required a participatory, ecclesially oriented ontology as the basis of theological epistemology. Philosophical concepts should be adapted in a theological context to explicate and construct theological content. For Bonhoeffer the Church was the place of revelation in which the human being could understand his or her existence in relation to others and lead a "personal life." More clearly and systematically than Luther, Bonhoeffer saw the Church as the Body of Christ as the place of transformation into the shape of Christ. Every individualistic idea of the Church must be wrong. Communion, doctrine, and theology belonged together. The intentions of Luther and Bonhoeffer regarding the Church's Christological and Pneumatological foundation as a sacramental communion in the Triune God, sent into the world in shared witness and service in mission and ministry still seems to have ecumenical potential concerning for example Lutheran and Catholic understandings of Church, ministry and Eucharist.
Bibliografia
Abromeit H.J., Das Geheimnis Jesu Christi. Dietrich Bonhoeffers erfahrungsbezogener Christologie (Diss 1989), Neukirchen-Vluyn 1991.
Außermair J., Konkretion und Gestalt. "Leiblichkeit" als wesentliches Element eines sakramentalen Kirchenverständnisses am Beispiel der ekklesiologischen Ansätze Paul Tillichs, Dietrich Bonhoeffers und Hans Asmussens unter ökumenischem Gesichtspunkt, Paderborn 1997.
Bayer O., Martin Luther's Theology: A Contemporary Interpretation, trans. Th.H. Trapp, Grand Rapids 2008.
Bonhoeffer D., Akt und Sein. Transzendentalphilosophie und Ontologie in der systematischen Theologie, Hrsg. H.-R. Reuter, München 1988 (Dietrich Bonhoeffer Werke 2).
Bonhoeffer D., Act and Being: Transcendental Philosophy and Ontology in Systematic Theology, ed. W.W. Floyd, trans. H. M. Rumscheidt, Minneapolis 1996 (Dietrich Bonhoeffer Works English 2).
Bonhoeffer D., Barcelona, Berlin, Amerika 1928–1931, Hrsg. R. Staats, H.Ch. von Hase, München 1991 (Dietrich Bonhoeffer Werke 10).
Bonhoeffer D., Berlin 1932–1933, Hrsg. C. Nicolaisen, E.-A. Scharffenorth, München 1997 (Dietrich Bonhoeffer Werke 12).
Bonhoeffer D., Communion of Saints. A Theological Study of the Sociology of the Church, eds. C.J. Green, J. von Soosten, Minneapolis 2009 (Dietrich Bonhoeffer Works English 1).
Bonhoeffer D., Creation and Fall. A Theological Exposition of Genesis 1-3, ed. J. W. de Gruchy, trans. D.S. Bax, Minneapolis 2004 (Dietrich Bonhoeffer Works English 3).
Bonhoeffer D., Discipleship, eds. G.B. Kelly, J.D. Godsey, trans. B. Green, R. Krauss, Minneapolis 2001 (Dietrich Bonhoeffer Works English 4).
Bonhoeffer D., Ecumenical, Academic, and Pastoral Work: 1931–1932, eds. V.J. Barnett, M. Brocker, M.B. Lukens, trans. I. Best, et al., Minneapolis 2012 (Dietrich Bonhoeffer Works English 11).
Bonhoeffer D., Ethik, Hrsg. M. Kuske, I. Tödt, München 1992 (Dietrich Bonhoeffer Werke 6).
Bonhoeffer D., Illegale Theologenausbildung: Finkenwalde 1935–1937, Hrsg. O. Dudzus, J. Henkys in Zusammenarbeit mit S. Bobert-Stützel, D. Schulz, I. Tödt, München 1996 (Dietrich Bonhoeffer Werke 14).
Bonhoeffer D., Nachfolge, Hrsg. I. Tödt, H.E. Tödt, E. Feil und C. Green, München 1994 (Dietrich Bonhoeffer Werke 4).
Bonhoeffer D., Ökumene, Universität, Pfarramt 1931–1932, Hrsg. E. Amelung, Ch. Strohm, München 1994 (Dietrich Bonhoeffer Werke 11).
Bonhoeffer D., Sanctorum Communio. Eine dogmatische Untersuchung zur Soziologie der Kirche, Hrsg. J. von Soosten, München 1986 (Dietrich Bonhoeffer Werke 1).
Bonhoeffer D., Schöpfung und Fall. Theologische Auslegung von Genesis 1–3, Hrsg. M. Rüter, I. Tödt, München 1989 (Dietrich Bonhoeffer Werke 3).
The Church: Towards a Common Vision. Faith and Order Paper No. 214, World Council of Churches Publications, Geneva 2013.
DeJonge M.P., Bonhoeffer's Reception of Luther, Oxford 2017.
Hampson D., Christian Contradictions. The Structures of Lutheran and Catholic Thought, Cambridge 2001.
Hennecke Ch., Die Wirklichkeit der Welt erhellen. Ein ökumenischen Gespräch mit Dietrich Bonhoeffer über die ekklesiologischen Perspektiven der Moralverkündigung, Paderborn 1997.
Huber W., Gehorsam glauben – betend Gerechtes tun. Bonhoeffers Antworten auf Luthers Frage, "Bonhoeffer Rundbrief" Nr. 118. März 2018,
pp. 31–47.
JØrgensen P.H., Die Bedeutung des Subjekt-Objektverhältnisses für die Theologie. Der Theo-onto-logische Konflikt mit der Existenzphilosophie. Wissenschafliche Beiträge zur kirchlich-evangelischen Lehre, Hamburg Bergstedt 1967.
Karimies I., Luther's Understanding of the Ontology of Faith and the Augustinian Tradition, [draft paper].
Karttunen T., The Church as a Person-community in the Theologies of John D. Zizioulas and D. Bonhoeffer, FS for Prof. Dr Matti Kotiranta. Luther-
-Agricola-society, Helsinki 2018.
Karttunen T., The Church for Others: Dietrich Bonhoeffer's Pioneering Ecumenical Vision, "The Seminary Ridge Review" Autumn 2010, pp. 81–98.
Karttunen T., Die Luther-Lektüre Dietrich Bonhoeffers, in: Bonhoeffer und Luther. Zentrale Themen ihrer Theologie, Hrsg. K. Grünwaldt, Ch. Tietz, U. Hahn, Hannover 2007, pp. 9–32.
Karttunen T., Die Polyphonie der Wirklichkeit. Erkenntnistheorie und Ontologie in der systematischen Theologie, Joensuu 2004.
Lutz J., Unio und communio: zum Verhältnis von Rechtfertigungslehre und Kir­chenverständnis bei Martin Luther. Eine Untersuchung zu ekklesiologisch relevanten Texten der Jahre 1519–1528, Paderborn 1990.
Mannermaa T., Hat Luther eine trinitarische Ontologie, in: Luther und die trinitarische Tradition, Ratzeburg 1994, pp. 43–60 (Veröffentlichungen der Luther-Akademie Ratzeburg 23).
Mannermaa T., In ipsa fide Christus adest: Luterilaisen ja ortodoksisen kristin-uskonkäsityksen leikkauspiste, Helsinki 1981.
Mannermaa T., Theosis als Thema der Finnischen Lutherforschung, in: Luther und Theosis, Hrsg. S. Peura, A. Raunio, Helsinki 1990, pp. 11–26.
Martikainen E., Doctrina. Studien zu Luthers Begriff der Lehre, Helsinki 1992 (Luther-Agricola-Gesellschaft 26).
Müller G.L., Bonhoeffers Theologie der Sakramente. Frankfurter theologische Studien, Frankfurt a. M. 1979.
Nessan C.L., Bonhoeffer, Dietrich, Influence on, in: Encyclopedia of Martin Luther and the Reformation, Vol. 1: A–L, ed. by M.A. Lamport, foreword by B. Gordon, introduction by M.E. Marty, Lanham–Boulder–New York–London 2017, pp. 81–83.
O'Callaghan P., The Criteriological Meaning of the Lutheran Doctrine of Justification and its Ontological Underpinnings, "Theological Research" 8 (2020), pp. 131–150.
Ojell A., Trinitarian Presence and Present Christ as Righteousness and Virtue in Gregory of Nyssa's Exegesis on Beatitudes: Views for its Lutheran Ecumenical Reception, [draft paper].
Peura S., Luthers Bedeutung für das ökumenische Gespräch aus evangelischer Sicht, in: Lutherforschung im 20. Jahrhundert: Rückblick – Bilanz – Ausblick, Hrsg. R. Vinke, Mainz 2004, pp. 235–259 (Veröffentlichungen des Instituts für Europäische Geschichte Mainz, Abteilung für Abendländische Religionsgeschichte, Hrsg. G. May, Beiheft 62).
Peura S., Das Sich-Geben Gottes – Korreferat zu Ulrich Asendorf: Die Trinitäts­lehre als integrales Problem der Theologie Martin Luthers, in: Luther und die trinitarische Tradition, Ratzeburg 1994, pp. 131–146 (Veröffentlichungen der Luther-Akademie Ratzeburg 23).
Prenter R., Bonhoeffer und der junge Luther, in: Die Mündige Welt IV, Bd. 1, Weissensee 1961, pp. 152–169.
Prenter R., Dietrich Bonhoeffer und Karl Barth Offenbarungspositivismus, in: Die Mündige Welt, Bd. 3, München 1960, pp. 11–41.
Root M., Die ökumenische Bedeutung der jüngeren Entwicklungen in der lutherischen Diskussion um die Trinität, in: Luther und die trinitarische Tradition, Ratzeburg 1994, pp. 147–159 (Veröffentlichungen der Luther-Akademie Ratzeburg 23).
Rosenthal K., Die Überwindung des Subjekt-Objekt-Denkens als philosophisches und theologisches Problem. Göttingen 1970 (Forschungen zur systemati­schen und ökumenischen Theologie 24, Hrsg. E. Schlink).
Ruokanen M., Theology of Social Life in Augustine's "De Civitate Die," Göttingen 1993 (Forschungen zur Kirchen- und Dogmengeschichte).
Saarinen R., Justification by Faith. The View of the Mannermaa School, in: The Oxford Handbook of Martin Luther's Theology, eds. R. Kolb, I. Dingel, L. Batka, Oxford 2014, pp. 254–263.
Saarinen R., Die Teilhabe an Gott bei Luther und in der finnischen Lutherforschung, in: Luther und Ontologie. Das Sein Christi im Glauben als strukturierendes Prinzip der Theologie Luthers, Vammala 1993, pp. 167–182 (Schriften der Luther-Agricola-Gesellschaft 31).
Steinfort D., Communio als angemessenes Modell. Die Zukunft der Kirche nach Dietrich Bonhoeffer, in: Von der Communio zur Kommunikativen Theologie. Bernd-Jochen Hilberath zum 60. Geburtstag, Hrsg. B. Nitsche, Berlin 2008, pp. 125–136.
Vainio O.-P., Luther's Theological Ontology and the Contemporary Discussion Concerning Relational Ontology, 2020, unpublished seminar presen-
tation.
Wittschier S.-M., Kreuz, Trinität, Analogie. Trinitarische Ontologie unter dem Leitbild des Kreuzes, dargestellt als ästhetische Theologie, Würzburg 1987.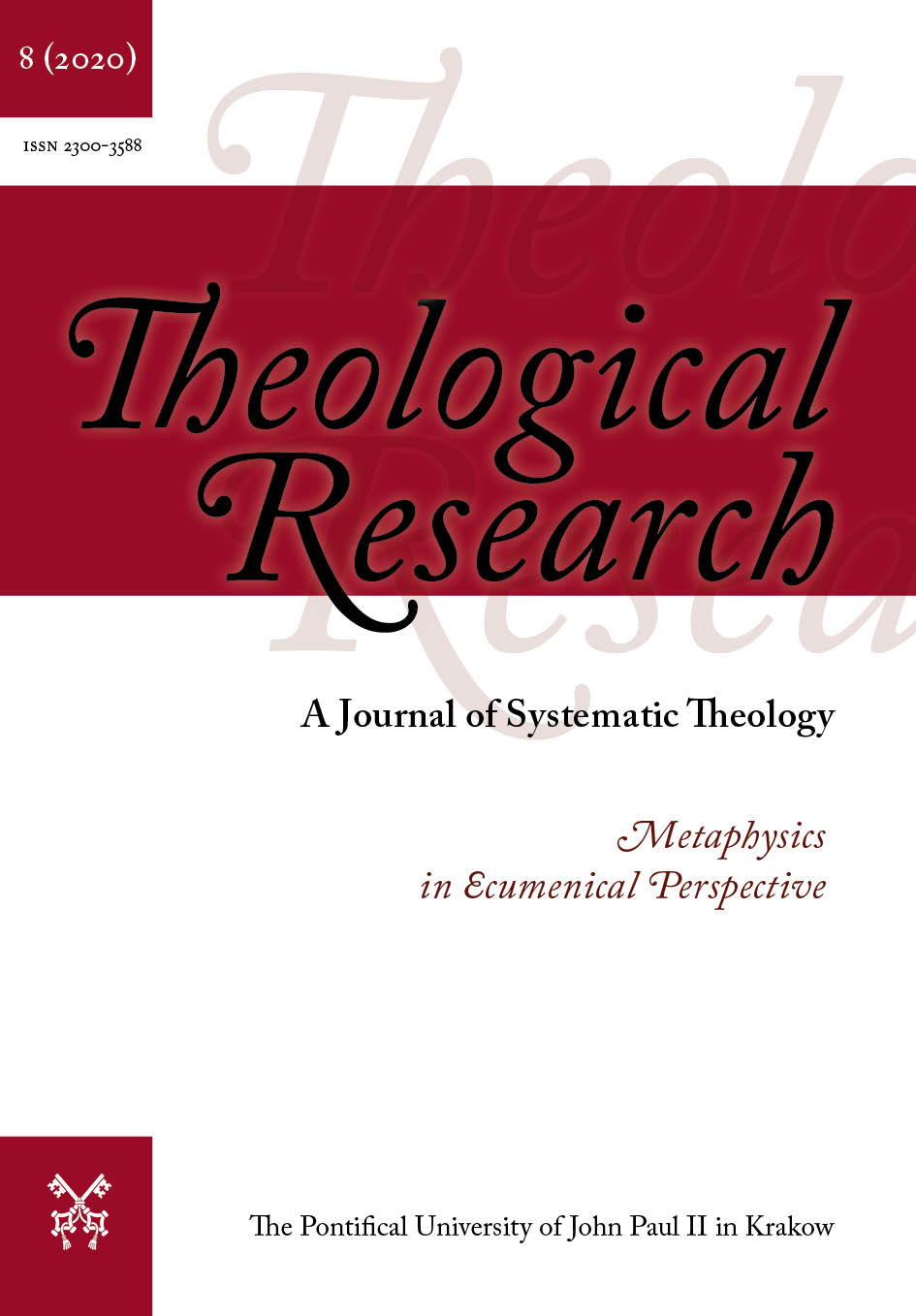 Pobrania
Licencja
Autrzy publikujący w czasopiśmie "Theological Research" zgadzają się na następujące zasady:
a. Autorzy przenoszą na rzecz Uniwersytetu Jana Pawła II w Krakowie (UPJPII) autorskie prawa majątkowe do swoich tekstów.
b. UPJPII udostępnia teksty na platformie wydawniczej, na licencji Creative Commons Uznanie autorstwa-Użycie niekomercyjne-Bez utworów zależnych 3.0 Polska, która umożliwia ich pobieranie i udostępnianie (np. w repozytoriach naukowych), o ile zostaną spełnione warunki:
podany autor i tytuł tekstu, 
podane miejsce publikacji (tytuł czasopisma i adres internetowy do oryginalnie opublikowanego tekstu), 
tekst będzie dystrybuowany w sposób niekomercyjny.