Teaching Education Process and Citizenship in the Contemporary Digital Environment. Pre and Post-Covid Perspectives
Słowa kluczowe:
Education 4.0, digital citizenship education, the role of teachers, SARS-COV2, digital education
Abstrakt
The rapidly changing reality, which has been influenced by the development of technology and the industrial revolution since the nineteenth century, has largely weakened the teaching profession and the form and type of professional certification. This weakening also devaluates the idea of citizenship, which is largely conveyed during the education process. Contemporary education (4.0) is focused on practical education, where the space for shaping attitudes and creating behaviour patterns is marginalised. The relationship between education and industry related to socialisation and culture-forming processes is part of the development of individuals in societies and part of a broader formal development plan for different types of state and national organisations. The processes of systemic changes in education do not always keep up with the changing social, political and economic situation. The authors of this article indicate how the teacher education process looked in the past, through a sociohistorical approach based on the understanding of what teachers think about the meaning of digital learning in everyday school life and work. In order to do this, it was necessary to undertake an investigation from the perspective of the teachers themselves. This was helpful for the analysis of the semantic and ideological imperfection of education 4.0, based on the role of teaching staff in digital citizenship education.
Bibliografia
Al-Zahrani A., Toward Digital Citizenship: Examining Factors Affecting Participation and Involvement in the Internet Society among Higher Education Students, "International Education Studies" (2015), Vol. 8, No. 12, pp. 203–217.
Banda M., Sociological Perspective of the Role of the Teacher in the 21st Century. "International Journal of Humanities Social Sciences and Education" (2016), Volume 3, Issue 1, pp. 162–175.
Bellamy R., Castiglione D., Legitimizing the Euro-`polity' and its `Regime': The Normative Turn in EU, "European Journal of Political Theory" (2003) Vol. 2, No. 7, pp. 7–34.
Bigum C., Lankshear C., Digital Literacies and Technologies in Education, Queensland 1997.
Commonwealth Department of Employment, Education, Training and Youth Affairs. Cuban L. Oversold and Underused: computers in the classroom. Cambridge 2000, Harvard University Press.
Bria Klotz T., Digital Technology and Teacher Preparation: The instructional role of social media among pre-service teachers, Kansas City 2017, University of Kansas Press.
Castells M., Himanen P., The Information Society and the Welfare State: The Finnish Model, Oxford 2002.
Council of Europe, Digital Citizenship Education, (2004) Strasbourg, https://rm.coe.int/16809382f9 (6.11.2022).
Deluze G., Guattari F., A Thousand Plateaus, Minneapolis 1987, University of Minnesota Press.
European Commision, Creating a European education area by 2025 and adapting education and training to the digital age, Brussels 2020.
Frau-Meigs D., O'Neill B., Soriani A., Tomé V., Digital Citizenship Education: overview and new perspectives, Strasburg 2019.
Hobbs R., Jensen A., The Past, Present, and Future of Media Literacy Education, The National Association for Media Literacy, "Education's Journal of Media Literacy Education" (2009), no. 1, pp. 1–11.
Jochun V., Pratten B., Wilding K., Civil renewal and active citizenship, A Guide to the Debate, NVCO (2005), http://socialwelfare.bl.uk/subject-areas/government-issues/ socialpolicy/ncvo/1380 25civil_ren ewal_active_citizenship.pdf (10.11.2021).
Jones E., Gaventa J., Concepts of Citizenship: A Review, IDS Development Bibliography 19, Brighton 2002: IDS.
Karakatsani D., Educational Theory and Didactical Praxis in Greece during the after-war period (In Greek), Athens 2012, Epikentro.
Kinal J., From Education 1.0 to Education 4.0: teacher training models from the 19th Century to the present day, "History of Education and Children's Literature" (2021) XVI, 2.
Leu D., Hillinger M., Loseby P., Grounding the Design of New Technologies for Literacy and Learning in Teachers' Instructional Needs, in: D. Reinking, M. McKenna, L. Labbo, R. Keiffer (Eds), Handbook of Literacy and Technology: Transformations in a post typographic world, Mahwah 1998, Lawrence Erlbaum Associates, pp. 203–221.
Mossberger K., Tolbert C.J., McNeal R.S., Digital Citizenship the Internet, Society, and Participation, Boston 2007, MIT Press Books.
PISA. PISA 2018 Results. Effective Policies, Successful Schools, London 2018, http://www.oecd.org/education/pisa-2018-results-volume-v-ca768d40-en.htm (10.10.2021).
Prensky M., Digital Natives, Digital Immigrants, "On the Horizon" (2001) Vol. 9 No. 5. October 2001, pp. 1–6.
Ribble M., Baily R., Ross T., Digital Citizenship, Addressing Appropriate Technology Behavior – ISTE, Learning & Leading with Technology, Washington 2004.
Schwab K., The Global Competitiveness Report 2018, Geneve 2018, https://www3.weforum.org/docs/GCR2018/05FullReport/TheGlobalCompetitivenessReport2018.pdf (3.11.2022).
Simsek E., Simsek A., New Literacies for Digital Citizenship, "Contemporary Educational Technology" (2014), Vol. 4, No. 2, pp. 126–137.
Staksrud E., Livingstone S., Haddon L., Ólafsson K., What Do We Know About Children's Use of Online Technologies? A Report on Data Availability and Research Gaps in Europe (2nd edition), London 2009, London School of Economics and Political Science.
UNESCO, Addressing global citizenship education in adult learning and education: summary report, Hamburg 2002.
United Nations, Education during COVID-19 and beyond, New York 2020.
Varier D., Dumke E.K, Abrams L.M., Conklin S.B., Barnes J.S., Hoover N.R., Potential of one-to-one technologies in the classroom: teachers and students weig, "Educational technology research and development" (2017), No. 4, pp. 967–992.
Wojtynski W., Training teachers in the first quarter of the century of People's Poland, "Przegląd Historyczno-Oswiatowy" (1969), No 3, p. 302.
World Economic Forum, Catalysing Education 4.0 Investing in the Future of Learning for a Human-Centric Recovery, Geneve 2020.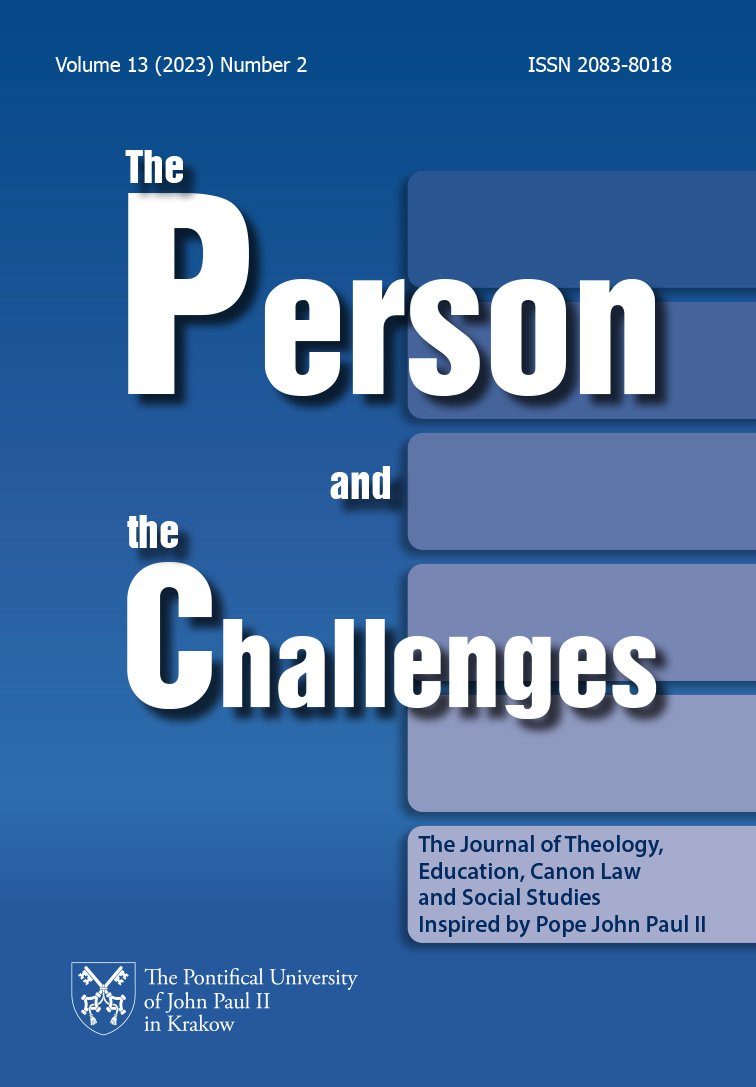 Pobrania
Licencja
Utwór dostępny jest na licencji Creative Commons Uznanie autorstwa 4.0 Międzynarodowe.
Twórca oświadcza, że służą mu prawa autorskie do utworu i że nie są ograniczone w zakresie objętym niniejszym oświadczeniem oraz że utwór jest dziełem oryginalnym i nie narusza praw autorskich innych osób.
Twórca zezwala Uniwersytetowi Papieskiemu Jana Pawła II w Krakowie na nieodpłatne, niewyłączne i nieograniczone w czasie korzystanie z utworu, to jest:
utrwalanie i zwielokrotnianie: wytwarzanie egzemplarzy utworu techniką drukarską, reprograficzną, zapisu magnetycznego oraz techniką cyfrową;
obrotu oryginałem albo egzemplarzami, na których utwór utrwalono (wprowadzanie do obrotu, użyczenie lub najem oryginału albo egzemplarzy, publiczne wystawienie, wyświetlenie, a także publiczne udostępnianie utworu w taki sposób, aby każdy mógł mieć do niego dostęp w miejscu i w czasie przez siebie wybranym);
włączenie utworu w skład utworu zbiorowego;
udzielanie przez Uniwersytet Papieski Jana Pawła II w Krakowie sublicencji Creative Commons Uznanie autorstwa 4.0 Międzynarodowe (CC BY 4.0)
Uniwersytet Papieski Jana Pawła II w Krakowie udostępnia utwór na Platformie Czasopism należącej do uczelni, na licencji Creative Commons Uznanie autorstwa 4.0 Międzynarodowe (CC BY 4.0). Tym samym uprawnia wszystkich zainteresowanych do korzystania z utworu pod następującymi warunkami:
zostanie podany autor i tytuł utworu,
zostanie podane miejsce publikacji (tytuł czasopisma i adres internetowy do oryginalnie opublikowanego utworu).