Desakralizacja folkloru − jej przejawy muzyczne i kulturowe
Słowa kluczowe:
folklor, kultura ludowa, pieśni ludowe, wierzenia ludowe, hermeneutyka folkloru, mitologizacja folkloru
Abstrakt
The religious dimension of traditional culture – crucial to the understanding of the rituals which form a commentary on the cycle of the life of nature (annual rituals) and the life of humankind (family rituals) – is of particular importance, but it is also difficult to research. The ethnologists who documented folklore were sensitive to this aspect of culture (i.e. the suprasensory life) even as early as the eighteenth century, but they did not know how to document it correctly, and imposed their own ideas – e.g., deistic ones – on the mentality and the imagination of the rustic population as revealed in their art. Incomplete (i.e., concerned with selected aspects of culture and art) and not very accurate documentation (searching for folklore's original versions, e.g., the brothers Grimm) resulted in the creation of standards of fairytales or songs which make reading their content and interpreting their form correctly more difficult today. Yet in folklore the content, the form and the function were organically bound together. This rather inadequate documentation encouraged erroneous interpretations, and even the mythologising of folklore in later periods, Documentation was shaped to fit in with the assumptions and ideas of the researchers, thus falsifying, in particular, the unique character of folk symbolism and poetics, the distinctiveness of folk thinking. In fact, it was not until the nineteenth century that Oskar Kolberg created reasonably full and reliable documentation of folk art – viewed in the context of traditional culture and nature – in his monumental work Lud, jego zwyczaje, sposób życia, mowa, podania, przysłowia, obrzędy, gusła, zabawy, pieśni, muzyka i tańce [People, their customs, way of life, speech, legends, proverbs, rituals, magic, games, songs, music and dances] (1856–1890 – 33 volumes). Ritual folklore, still quite active at that time, reveals both the multifunctionality of forms (associated with the musical and poetic styles), as well as the hierarchical order of functions and values – from the religious, through ethical, aesthetic, cognitive and socialising ones, to the ludic function.
At the same time ritual folklore reveals a tendency towards an increasingly prominent emphasis on the ludic function, at the expense of functions concerned with belief, religion and philosophy. This can be seen in the gradual disappearance of archaic ritual chants with original tonal-melodic patterns, slow tempos and a-metric structure. These chants were a manifestation of a contemplative-reflective attitude towards the world and towards life, regarded as sacred. In the twentieth century, harvest chants represented a relic of this attitude. The unique nature of rustic culture expressed in these chants was investigated by E. JagiełłoŁysiowa (Elementy stylów życia ludności wiejskiej [Elements of lifestyles of the rural population], 1978). She emphasised the changes taking place in the attitudes of peasants towards nature, and in particular towards the nourishing Mother Earth and work on the land; these were losing the religious dimension in favour of an economic approach towards all work, while the ritual celebrations were gradually becoming predominantly a form of entertainment. Replacing the ritual chants with ditties, frequently of a lewd character (at one time these forms complemented each other), is a symptom of the changes – the disappearance of the contemplative-reflective attitude to the life of nature and humankind, the loss of the sacral dimension. The archaic style of chanting thus disappears as well.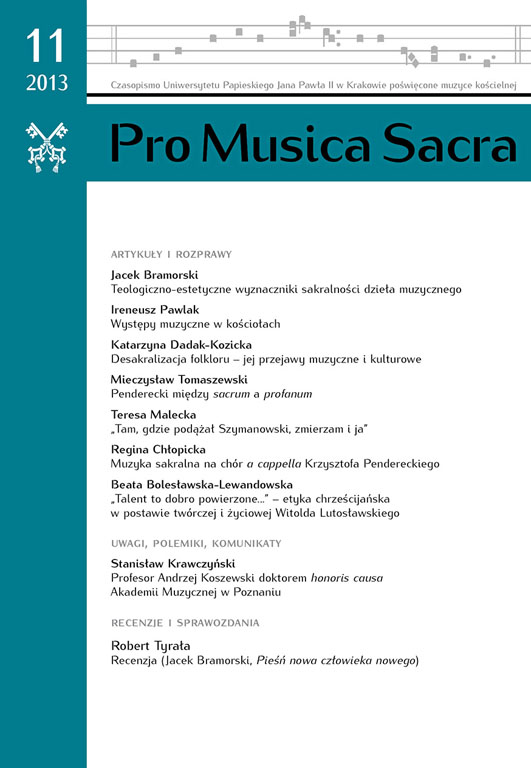 Pobrania
Dział
Artykuły i rozprawy
Licencja
Prawa autorskie (c) 2013 Katarzyna Dadak-Kozicka
Utwór dostępny jest na licencji Creative Commons Uznanie autorstwa 4.0 Międzynarodowe.
Twórca oświadcza, że przysługują mu prawa autorskie do utworu i że nie są ograniczone w zakresie objętym niniejszym oświadczeniem oraz że utwór jest dziełem oryginalnym i nie narusza praw autorskich innych osób.
Twórca zezwala Uniwersytetowi Papieskiemu Jana Pawła II w Krakowie na nieodpłatne, niewyłączne i nieograniczone w czasie korzystanie z utworu, to jest:
utrwalanie i zwielokrotnianie: wytwarzanie egzemplarzy utworu techniką drukarską, reprograficzną, zapisu magnetycznego oraz techniką cyfrową;
obrót oryginałem albo egzemplarzami, na których utwór utrwalono (wprowadzanie do obrotu, użyczenie lub najem oryginału albo egzemplarzy, publiczne wystawienie, wyświetlenie, a także publiczne udostępnianie utworu w taki sposób, aby każdy mógł mieć do niego dostęp w miejscu i w czasie przez siebie wybranym);
włączenie utworu w skład utworu zbiorowego;
udzielanie przez Uniwersytet Papieski Jana Pawła II w Krakowie sublicencji Creative Commons Uznanie autorstwa 4.0 Międzynarodowe (CC BY 4.0)
Uniwersytet Papieski Jana Pawła II w Krakowie udostępnia utwór na Platformie Czasopism należącej do uczelni, na licencji Creative Commons Uznanie autorstwa 4.0 Międzynarodowe (CC BY 4.0) Tym samym uprawnia wszystkich zainteresowanych do korzystania z utworu pod następującymi warunkami:
zostanie podany autor i tytuł utworu,
zostanie podane miejsce publikacji (tytuł czasopisma i adres internetowy do oryginalnie opublikowanego utworu).