Miłosierdzie Boże jako źródło inspiracji twórczej
Słowa kluczowe:
Divine Mercy, the Magnificat, Gregorian chant, St. Faustina, Johann Rudolph Ahle, Durante, Wolfgang Amadeus Mozart, Henryk Jan Botor, Wojciech Widłak, Wojciech Kilar
Abstrakt
When analysing the works by outstanding composers, one may come to the conclusion that this topic was not exploited too often in the history of music. The issue of Misericordias Domini was not as popular as, for example, Stabat Mater or Te Deum. Even a broader look at this topic area does not allow for noticing too many compositions. Does it mean that the great masters of the past epochs were not interested in Divine Mercy?
The answer to this question should be sought in theology, especially that of the Middle Ages. The then teaching of the Church exposed the Creator more in the role of a stern Judge than Merciful Father. In later times, this topic was tackled by composers more bravely and it thrived in the 20th century. Thanks to Helena Kowalska, later Saint Faustina, the cult of Divine Mercy accelerated and quickly spread all over the world. Its climax was the pontificate of Blessed Pope John Paul II who established the Feast of Mercy celebrated on the first Sunday after Easter. One of his last acts in this respect was the dedication of the Basilica of Divine Mercy in Krakow-Łagiewniki and forming the World Centre of Divine Mercy here. This site has become inspiration for our recording and PhD thesis.
Gregorian chant is the oldest traditional chant in the liturgy of the Roman Catholic Church. The church has prayed with this chant since the 6th century. Misericordias Domini chant presented on the record is a typical example of a responsorial psalm in which prayer with the text of Psalm 103 is combined with the chant of the chorus Misericordias Domini in aeternum cantabo.
Passacaglia is a form of composition characteristic for Baroque music, especially organ music. On the basis of the bass-ostinato, composers have built subtle polyphonic constructions. Misericordias Domini, the composition by Johann Rudolph Ahle (1625–1673), is constructed on this scheme. Ahle built a four-voice polyphonic construction on a diatonic, falling, half-note procession of sounds, by giving two voices to the violin duo and two to soloists: soprano and tenor. The multi-layer character of this piece relates not only to the sound matter but also to text, as the composer uses both Latin and German simultaneously.
In the Renaissance and Baroque, the polychoral technique experienced the peak of its development. It was used in Misericordias Domini composed by Francesco Durante (1684–1755), representative of the Neapolitan School. Two choirs are involved in a dialogue to meet at the end of the composition, in the climax moments, when chanting Divine Mercy in eight voices.
Wolfgang Amadeus Mozart's (1756–1791) offertory of 1775, Misericordias Domini KV 222, belongs to rarely performed pieces. Its compact, through-composed form shows the masterly skill of the composer and his original approach to the topic of Divine Mercy. The dramatic narration, change of key which was not typical of classicism, e.g. from d-moll to c-moll, create an impression that the great composer might have been afraid whether he would experience Divine Mercy himself.
Divine Mercy Song by Henryk Jan Botor (born in 1960), which was dedicated to Holy Father John Paul II, is composed well with other works inspired by the personality of the great Pope. It was composed in the jubilee year of 2000. The text borrowed from Saint Sister Faustina's Diary was given to a soprano signer and also to the choir – in climax and text culmination moments. By using Neo-Romanticism musical language, Botor achieved the message readable to the listener, grasping pathetic and figurative music in words. Rich instrumentation, involving a string orchestra, a harp, an extended percussion section, a choir and solo voice, enabled the composer to create an almost unlimited pallet of colours and moods.
Misericordias Domini composed by Wojciech Widłak (born in 1971) dated 19 April 2012 is the latest perspective on the described text. The composer created a subtly planned form, exploring the natural rhythm of the word Misericordias. Voices are treated here as instruments with the rhythm playing the leading role. The piece also uses modern means, such as glissando or recitals of texts in many languages, which affects the great power of the piece's artistic expression. When it comes to texts, the author took them from memorial booklets in which pilgrims from all over the world entered their thank-you words and requests to Merciful Jesus at the Sanctuary of Divine Mercy in Krakow-Łagiewniki.
Misericordia, the composition by Wojciech Kilar (born in 1932), is the piece that crowned the film Faustina (1994) directed by Jerzy Łukaszewicz. It is the meditation on Divine Mercy in the "form of crescendo" for a mixed choir of eight voices, string orchestra and piano. By using the minimum of means, the composer achieved maximum expression.
The record is crowned with the organ improvisation based on the melody of the Polish church song: Jesus, I Trust in You.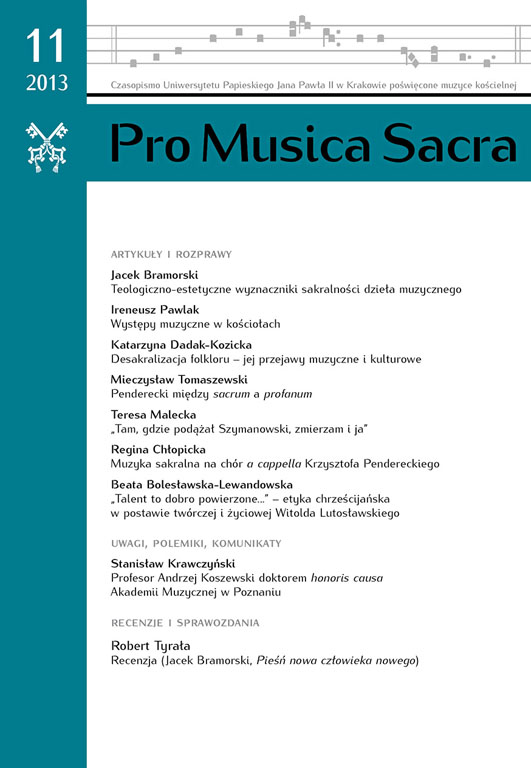 Pobrania
Dział
Artykuły i rozprawy
Licencja
Prawa autorskie (c) 2013 Krzysztof Michałek
Utwór dostępny jest na licencji Creative Commons Uznanie autorstwa 4.0 Międzynarodowe.
Twórca oświadcza, że przysługują mu prawa autorskie do utworu i że nie są ograniczone w zakresie objętym niniejszym oświadczeniem oraz że utwór jest dziełem oryginalnym i nie narusza praw autorskich innych osób.
Twórca zezwala Uniwersytetowi Papieskiemu Jana Pawła II w Krakowie na nieodpłatne, niewyłączne i nieograniczone w czasie korzystanie z utworu, to jest:
utrwalanie i zwielokrotnianie: wytwarzanie egzemplarzy utworu techniką drukarską, reprograficzną, zapisu magnetycznego oraz techniką cyfrową;
obrót oryginałem albo egzemplarzami, na których utwór utrwalono (wprowadzanie do obrotu, użyczenie lub najem oryginału albo egzemplarzy, publiczne wystawienie, wyświetlenie, a także publiczne udostępnianie utworu w taki sposób, aby każdy mógł mieć do niego dostęp w miejscu i w czasie przez siebie wybranym);
włączenie utworu w skład utworu zbiorowego;
udzielanie przez Uniwersytet Papieski Jana Pawła II w Krakowie sublicencji Creative Commons Uznanie autorstwa 4.0 Międzynarodowe (CC BY 4.0)
Uniwersytet Papieski Jana Pawła II w Krakowie udostępnia utwór na Platformie Czasopism należącej do uczelni, na licencji Creative Commons Uznanie autorstwa 4.0 Międzynarodowe (CC BY 4.0) Tym samym uprawnia wszystkich zainteresowanych do korzystania z utworu pod następującymi warunkami:
zostanie podany autor i tytuł utworu,
zostanie podane miejsce publikacji (tytuł czasopisma i adres internetowy do oryginalnie opublikowanego utworu).