Taming Eschatology: The Case of Silja Walter OSB
Słowa kluczowe:
Eschatology, Silja Walter, poetry, monasticism, Parousia
Abstrakt
This paper examines the eschatological themes in the series of poems, The Dance of Obedience or the Straw Carpet, written by the Benedictine nun Silja Walter (1919–2011) — Sr. Hedwig OSB from the Swiss monastery of Fahr. This series of poems is particu- larly representative for the poet's work as it combines her monastic experience with her personal poetic reading of the Bible in the spirit of lectio divina. These two sourc- es give the analyzed poetry a particular theological quality, originally combining spiritual and dogmatic elements. Having presented the biographical and monastic context of the set in question, the authors show the form, connections and dynamism of the eschatological themes present in the discussed poetry. In conclusion, referring generally to the entirety of Walter's work, they show the anthropological value of her approach to eschatology, which, in accordance with the title of the article, can be defined as bringing eschatological themes closer to everyday existential experience. This effect is possible thanks to the original use of poetic language.
Bibliografia
Avis P., God and Creative imagination. Metaphor, Symbol and Metaphor in Religion and Theology, New York 1999.
Bennet J., Vibrant Matter, a political ecology of things, Duke 2010. Corrigan K., Evagrius and Gregory. Mind, Soul and Body in the 4th Century, Oxfordshire 2019.
Dyrness W. A., Poetic Theology. God and the Poetics of Everyday Life, Grand Rapids 2010.
Mazis G. A., Merleau-Ponty and the Face of the World: Silence, Ethics, Imagination and Poetic Ontology, Albany (New York) 2016.
Rossi L., I filosofi greci padre dell'esicasmo, Torino 2000.
The Holy Rule of St. Benedict with commentary by Philip Lawrence OSB, https://christdesert.org/prayer/rule-of-st-benedict (20.04.2021).
Walter S., Das dreifarbene Meer, Freiburg 2016.
Walter S., Gesamtausgabe, 1: Frühe Gedichte, Texte, Erzählungen und Spiele, Freiburg 1999.
Walter S., Gesamtausgabe, 8: Lyrik, Freiburg 2003.
Wolitz U., Der neue Mensch. Theologische Grundlinien im Werk Silja Walters, Freiburg 1998 (Praktische Theologie im Dialog, 17).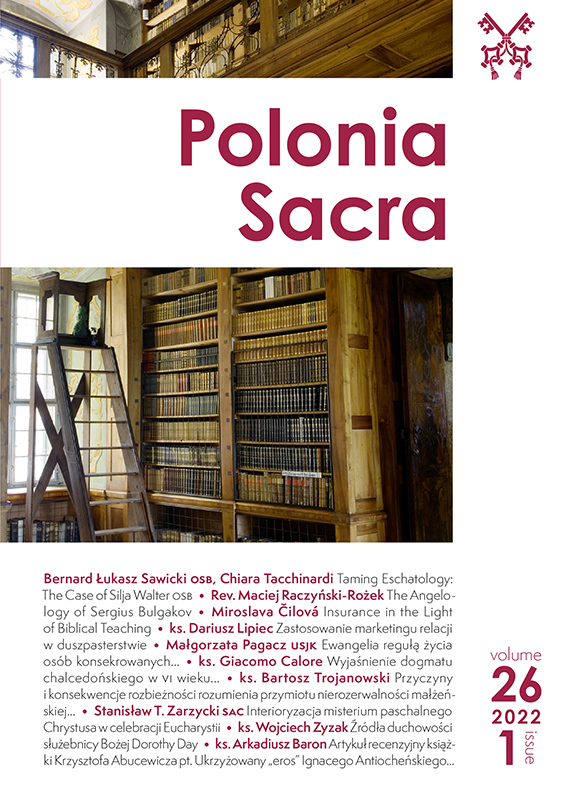 Pobrania
Licencja
Twórca oświadcza, że przysługują mu prawa autorskie do utworu i że nie są ograniczone w zakresie objętym niniejszym oświadczeniem oraz że utwór jest dziełem oryginalnym i nie narusza praw autorskich innych osób.
Twórca zezwala Uniwersytetowi Papieskiemu Jana Pawła II w Krakowie na nieodpłatne, niewyłączne i nieograniczone w czasie korzystanie z utworu, to jest:
utrwalanie i zwielokrotnianie: wytwarzanie egzemplarzy utworu techniką drukarską, reprograficzną, zapisu magnetycznego oraz techniką cyfrową;
obrotu oryginałem albo egzemplarzami, na których utwór utrwalono (wprowadzanie do obrotu, użyczenie lub najem oryginału albo egzemplarzy, publiczne wystawienie, wyświetlenie, a także publiczne udostępnianie utworu w taki sposób, aby każdy mógł mieć do niego dostęp w miejscu i w czasie przez siebie wybranym);
włączenie utworu w skład utworu zbiorowego;
udzielanie przez Uniwersytet Papieski Jana Pawła II w Krakowie sublicencji Creative Commons Uznanie autorstwa-Użycie niekomercyjne-Bez utworów zależnych 3.0 Polska
Uniwersytet Papieski Jana Pawła II w Krakowie udostępnia utwór na Platformie Czasopism należącej do uczelni, na licencji Creative Commons Uznanie autorstwa-Użycie niekomercyjne-Bez utworów zależnych 3.0 Polska. Tym samym uprawnia wszystkich zainteresowanych do korzystania z utworu pod następującymi warunkami:
zostanie podany autor i tytuł utworu,
zostanie podane miejsce publikacji (tytuł czasopisma i adres internetowy do oryginalnie opublikowanego utworu),
utwór będzie dystrybuowany w sposób niekomercyjny,
nie będą tworzone utwory zależne.